Additional Services + Products
Services:
Fabrication: Squibb Tank Company has its roots and strength in building tanks, but also provides customers with additional metal fabrication services. Squibb Tank Company stocks various sizes of steel plate, rounds, bars, angle, channel, and other structural shapes. With the ability to shear, bend, or roll and years of experience we are able to help you with your next metal working project.
Roll, Shear, Press Break: Frame Extensions, stiffener rings, or the smoker of your dreams are all within Squibb Tank Company 's capacity of metal forming. We have the machines to cut, bend, and roll your next metal project.
Shot Blasting: Squibb Tank Company hosts a 2,500 square-foot shot blast facility for surface preparation. We use steel shot which we recover and reuse, lowering operational costs and waste. With our large bay we can accommodate over size tanks and equipment. Shot blasting leaves a "near white" finish with a light profile that is ideal for good paint adhesion.
Delivery: Squibb Tank Company maintains custom trailers to make delivery of your tank as simple and economical as possible. We utilize custom double drop trailers for hauling large diameter tanks. These trailers allow for easier trip routing and lower permit costs. To service our oilfield customers Squibb Tank Company uses a hydraulic stand up trailer to set batteries. The trailer has been designed for tight leases and demanding conditions.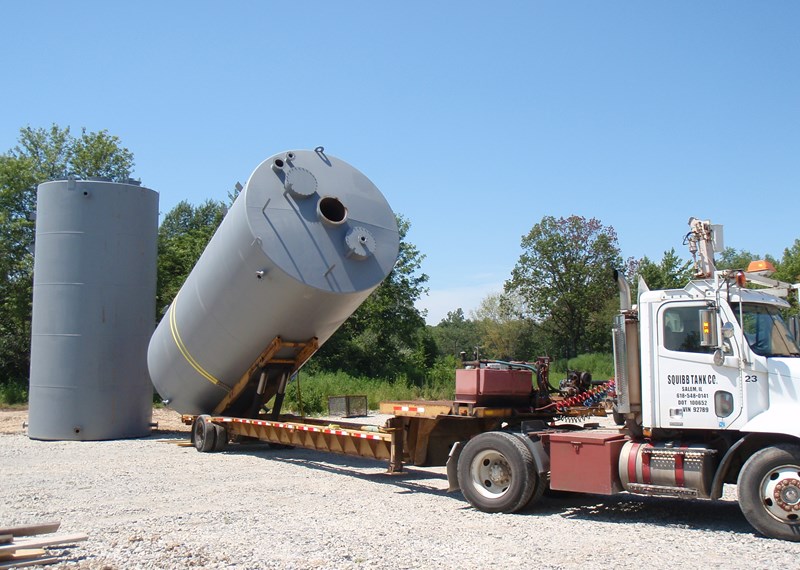 Products:
Squibb Tank Company offers many alternatives for customizing your tank purchase to further meet your specified need. Some available options include:
Anchor Chairs
Bulkheads & Baffles
Coned Bottom or Sloped Bottom Tanks
Custom Name & Technical Data Plates
Davit Arm (for holding manway lid)
Gauge & Instrumentation
Heater Coils
Insulation Jacketing
Interior Coatings
Legged Tanks
Mixer Bridge (Top Mount & Side Mounting)
Skid Structures (added to the bottom of vertical tanks)
Stairways, Crossovers, & Walkways
Top Rails (with toe board) & Safety Caged Ladders
Various Flanges, Couplings, and Fittings customizable to meet your requirements
Contact us today. We would love to work towards solving your storage problem. Squibb Tank Company is your storage tank solution.